Hello from Finland!


First of all, thanks for Highflow.nl to be a part of this project!
I have pc inside desk build going on atm and I wanted to share some pictures of my build
I will update new pics to this topic and I could try write something up.
English is not my native language, so I apologize in advance my language skills
Specs of build:
Desk:
Desk body - oak and mdf board
All inside parts - Laminated carbon fiber
Bitspower 360 and 420 fangrills
vandal switches
rgb and uv lightning
Hardware:
Motherboard - Asus Maximus Formula VI + EK blocks
CPU - Intel Core i7 4790K + EK Block
PSU - Corsair AXi 860watt
RAM - 16GB G.Skill Sniper + EK Block
SSD - 250GB and 1000GB Samsung 840 Evo
Graphics cards - EVGA GTX 980 Hydro Copper SLI

Cooling:
Radiator - Mo-Ra3 360 LT
Fans - Noiseblocker NB-Eloop B12-PS
Fan/pump control - Aquaero 5 LT
Pumps - Aqua-Computer D5 (2 pcs)
Pump top - EK-D5 Dual TOP
Filter - Aqua-Computer Filter
Reservoir1 - Aqua-Computer Aquatube
Reservoir2 - EK-RES X3 400 (4pcs)
Fittings - probably Bitspower fittings
Tubes - Acrylic 12/10 mm
Blocks - EK Water Blocks

Planning:

Desk part
All inside parts of this desk is laminated with real carbon fibre. Here are some pictures of carbon fibre, laminating and sanding.

Laminating

Desk is painted and stained to black/white. Inside part is sanded and it's need some lacquer.

That grey part will be also laminated and all custom made cables will go through that "fake floor" one by one.
(grey part is only set in place for test purpose, if you wondering why it is not straight)



I have recently made custom cables for this build. Here are some pictures of 24-pin cable.
Cable is sleeved with black and mint paracord.


Package from evga which includes Hydro Copper Waterblocks and backplates for GTX 980 graphics cards.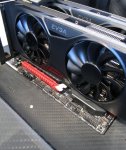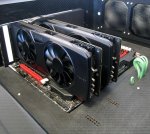 Laatst bewerkt: