This last Build and retubing on my
Corsair
900D
Case has Custom Midplate long version side and hard drive plates are from cold zero, the build has 13 Cougar rgb
fans
hpb and spb version , 6 D RGB
led strips
, 2 12volt strips akasa with two cougar rgb contollers ,and 1 coolermaster D Rgb splitter 4 way one 5 way akasa D RGb 4 way splitter and one akasa Rgb 12 volt splitter 5 way. Tubbing is all by
Ekwb
12/16mm and
fittings
are
Ekwb
and
alphacool
and some are
Xspc
.
Reservoir
is
Xspc
photon 270 d5 with 5mm rgb led from
Xspc
,
Pump
which for me is the best on the marker for functionality and power is
Aquacomputer
d5 next amazing. The Radiators are top one is
Xspc
Rx v3 480 bottom side one
Ekwb
coolstream PE-480. Flow meters are two
Barrow
D RGB LRC2.0. ,
CPU block
Ekwb
Velocity D RGB . Motherboard is Aorus Master with an 9900ks intel processor, Memory
Corsair
Vengeance Rgb Pro 3600 32 Gb.There are two NVME on
corsair
P600 1 Terabyte and one samsung 970 Pro 512Gb. Graphics Card Is an Aorus 2080 Xtreme Ti. The Watercooling build has being modified 3 time since last year From Soft tubing to hard tubing 10/12mm and then to 12/16mm . The Rgb Fusion by gigabyte works with everything syncs all on all devices with no problems. All Watercooling Parts Have being Purchased by
Highflow
.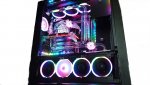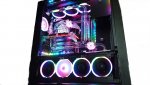 Laatst bewerkt: