Hallo.
Ik heb een vraag aan jullie techneuten.
Ik wil een keer deze
Corsair LL120 RGB 120mm Dual Light Loop RGB LED PWM Fan
kopen.
Maar daar zit een controller bij die je aansluit op een usb 2.0 header op het moederbord.
Maar op mijn asus strix 270i zit geen usb header op het bord maar wel achterop.
Nu is mijn vraag zijn er kabels voor om dat op te lossen?
Met dit maar dan de linkse aansluiting met pinnetjes(male)?
https://www.highflow.nl/modding/str...-to-5-pin-female-connector-length-200-cm.html
Dit bord heb ik.
https://www.asus.com/nl/Motherboards/ROG-STRIX-Z270-I-GAMING/
Of misschien dit
https://www.highflow.nl/aircooling/...qua-computer-hubby7-internal-usb-2.0-hub.html
Weet niet of dat gaat werken,denk van niet?
Heb wat gevonden.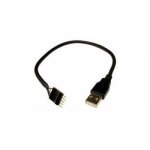 Kun je hier aankomen @
Freddy
?
Laatst bewerkt door een moderator: