Is het mogelijk dat de
Mayhems
pastel Pink
vloeistof
(of concentraat) beschikbaar komt?
Hier de benodigde informatie uit de sticky post:
- Pastel V2 Pink (concentrate)
-
Mayhems
- De roze variant van de pastel serie van
mayhems
koelvloestoffen.
-
https://mayhems.store/may_b2c/mayhems-pastel-v2-pink-concentrate-watercooling-fluid-250ml.html
(de productpagina van de "ready to use" variant is niet beschikbaar om een onbekende reden)
- Van een revieuw voor de roze variant heb ik niet direct een link gevonden, maar een van jullie klanten was wel blijkbaar tevreden met de rode variant van de
vloeistof
.
https://www.highflow.nl/watercooling/koelvloeistof/kant-en-klaar/mayhems-pastel-red-md-p-r.html
- Een andere shop in NL met het product heb ik niet gevonden, maar bij
mayhems
zelf verkopen ze het concentraat voor 12.49 pond = 14,50 euro. De link hiernaar staat al eerder in de post.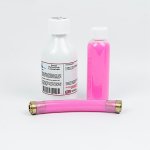 Hopelijk heb ik hiermee aan alles voldaan voor een verzoek in te dienen voor dit product.
Graag hoor ik van jullie of het mogelijk is of dit product beschikbaar komt!
Met vriendelijke groet,
Lou