Weer super mooie blokken van Bitspower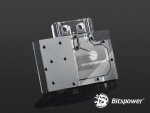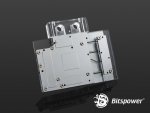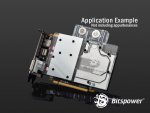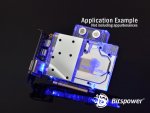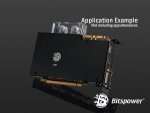 BP-WBVGNGTX970ESNPAC Bitspower VG-NGTX970ES Acrylic Top With Stainless Panel (Clear)
Features:
1. Design For EVGA GeForce GTX 970 SuperClocked Design VGA Card.
2. Direct-Flow Design On Inlet/Outlet.
3. TOP Cover Made Of Acrylic And Stainless.
4. Block Base Made Of C1100.
5. Bottom High Durability Nickel Finished In Shining Silver.
6. Polished Stainless Panel In Shining Silver Fixed.
7.
Bitspower
Back-Plane Included.
8. RoHS Compliant.
Dimension ( LxWxH ) :151.5x126x20.15 MM (Out-Line)
Thread : G1/4" x 2
LED Hole : 5MM x 3
Included :
1. Fujipoly Thermal PAD Included.
(Please Reference The Installation Guide.)
2. Silver Shining Stop
Fitting
x 2PCS.
3. Backup O-Ring For VG-NGTX970ES x 1Set.
4.
Bitspower
Backplane x 1PCS
5. Mounting Screws/Accessories.
***All Specification Will Be Changed Without Further Notice***