Heren,
Gezien mn vorige pc stierf omdat m'n loop niet rond ging dacht ik bij deze pc een
bitspower
flow meter er tussen te zetten, nu heeft die een maand goed gedraaid... Om vervolgens van zijn as af te draaien :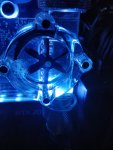 Mijn vraag, heeft iemand ervaring met deze flow meters, is dit iets wat vaker voorkomt of voor kan komen of heb ik een maandagmorgen model?
Als dit vaker voor kan komen, welke flow meter kan ik dan beter nemen? Ik heb namelijk geen zin om elke maand mn loop te moeten drainen om een klote metertje te fixen...