Goede middag,
Ben ik weer
Na lang twijfelen tussen een overclock setup bouwen of een nieuwe behuizing ben ik toch voor de behuizing gegaan. Zoals in de titel staat de
Thermaltake
level 20 xt. Worden 3 loops met 3x 480mm rads in push and pull config met 3x D5
pomp
. Ook haal ik de oude
corsair
900d leeg kwa hardware. Echter wil ik voor de behuizing overstappen naar een e-atx mobo.
Huidige setup die ook meegaat naar de nieuwe behuizing:
Cpu: Ryzen 9 3900x
Mobo: Msi x570 ace (word vervangen door een e-atx mobo)
Geheugen: Gskill trident z 3600mhz cl16 (4x8gb)
Videkaart: Msi rtx2080ti sea hawk
ek
2 stuks met Msi nvlink adaptor
Schijf: Samsung 970 pro (250gb) 2 stuks in raid 0
Samsung 950 pro 500gb
Voeding:
Corsair
Ax1200i
Ben bezig met offertes op te vragen voor een custom distroplate/
reservoir
, die ik in de voorzijde van de behuizing wil plaatsen met de 3 d5
pompen
in 1 blok maar wel met 3 loops. Maar ze hebben afmetingen nodig nu de behuizing binnen is maar is even op meten
.
Foto's: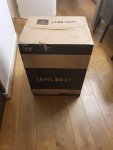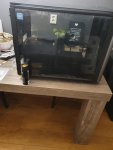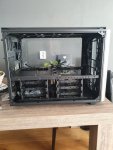 Dit is de reden dat ik wil overstappen naar e-atx vind een atx mobo te klein voor in de behuizing, en de tray waar het moederbord opzit is wel erg handig(oud msi mobotje niet op letten is niet wat er in komt alleen om te kijken):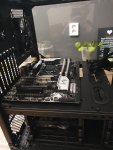 Freddy je ziet dus binnenkort wel weer bestellingen van me voorbij komen