Een upgrade van de
Singularity
Beast III.
Helaas een noodzakelijke upgrade.
Ik heb altijd een reserve systeem nodig voor mijn tekenwerk ( en natuurlijk gamen).
Wat gaat het deze keer worden.
Case Caselabs TH-10 + pedestal
Fans
Noiseblocker
Black Silent Pro PL-PS 24 x
Mb Asus Rampage 6 Extreme
cpu Intel i9 - 10900x
cpu waterblock
EK
-WB Velocity RGB Full Nickel
radiator
:
Alphacool
XT45 NeXxos 480 (4x)
pompen
:
Aquacomputer
D5 met usb en aquabus 2 x
PSU: Lepa G1600
Reservoirs
:
Aquacomputer
Glass 880ml met Aqualis pomptops;
Controller
Aquacomputer
Octo Controller
Fansplitters
Aquacomputer
Splitty9 3x;
Ledcontroller
Aquacomputer
Fabwerk 360;
USB hub
Aquacomputer
Hubby9;
Ram : de
Corsair
DDR 4 2666 Mhz 32 set (4 stiks), of de 64gb 3000Mhz set.
M2 stiks Samsung 970 pro 1 TB en de 2TB
GPU's : of de 2 oude Titans 6GB;
Coolant
:
Mayhems
X1 UV- Bleu.
We gaan weer heel langzaam van start.
De oude achterdeur komt er weer in want het wordt geen schoonheidsprijs voor de achterkant .
De acrylic panel komt dus niet terug aan de achterkant.
Inmiddels heb ik de 2 480's Al in de pedestal ingebouwd. Ook de
fans
met de nieuwe extension kabels zijn aangesloten op een hubby 9 (en getest)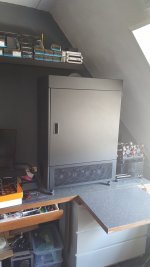 Aan de voorkant heb ik ook weer de 880ml
reservoirs
geplaatst. Ik kies er voor om 2 nieuwe
pompen
te plaatsen.
Het systeem krijgt 2 verschillende loops (ik heb de setup een beetje afgekeken van Jaycy2cents (skunkwork build).
De cpu en de ram zijn ook getest op de testbench dus kan het bordje ook geplaatst worden.
Aangezien er weer een bodem in komt moet ik even kijken waar ik de gaten van de fillports ga boren. Daarvoor even de 2 titans erin.
Ik had nog 4
XSPC
radiatoren liggen van de allereerste build maar de
Alphacool
bied meer mogelijkheden wat aansluitingen betreft dus komen deze weer terug in deze build. Wel jammer want ik had ze willen gebruiken in mijn nieuwe build voor beneden die dringend aan een upgrade toe is.
De case hiervoor heb ik al staan (
Corsair
1000D).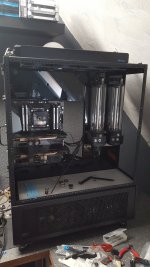 Hier zit nog de lage top op.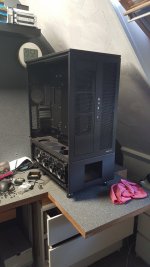 Laatst bewerkt: