Naam product
NB-BlackSilentPro PC-P 80mm x 15mm Ultra Silent PWM Fan - 2500 RPM
Naam fabrikant
Noiseblocker
dus
Link
Ik kan hem niet zien op de
Noiseblocker
site zelf, volgens PPCs zijn ze *** NEW ***
Noiseblocker BlackSilentPro PC-P 80x15mm Ultra Silent Fan - 2500RPM Products Model: NB-PC-P [NB-PC-P] : Performance-PCs.com, ... sleeve it and they will come
Foto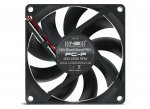 Tekst
The
Noiseblocker
NB-BlackSilentPro premium fan Series based on the frame of the NB-BlackSilentFan, the electronic NB-EKA Plus and the bearing NB-NanoSLI and is also based on the High End Series NB-Multiframe.The BlackSilentPro Series comes with 2 length fan connector wires. One is 200mm for shorter applications and the second is 450mm+ for reaching across full tower chassis ect. The new developed mounting set incl. the "NB-Silentframe" with the complement rubber part and the long screws with knurled nuts for tool-free assembly is also included.
Original Noiseblocker Quality
Extreme silent, reliable and fail-proof
Cable management
Sleeved cable 20 + 50cm
4-Pin PWM Molex
Mounting set "vibration free"
Perfect sealing for more air pressure
Nearly no impulse noise by NB-EKAPlus Drive
Nearly noiseless NB-NanoSLI bearing
Start voltage 6.0V
Auto restart Function
Naam product
NB-eLoop B12-P 120mm x 25mm Ultra Silent Bionic Blade PWM Fan - 800-2000 RPM
Naam fabrikant
Noiseblocker
Link
NB-eLoop® S-Series 120mm | Noiseblocker
Noiseblocker NB-eLoop B12-P 120mm x 25mm Ultra Silent Bionic Blade PWM Fan - 800-2000 RPM Products Model: NB-ELOOP-B12-P [NB-ELOOP-B12-P] : Performance-PCs.com, ... sleeve it and they will come
Foto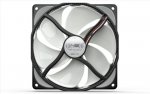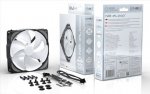 Tekst
The world's first high-tech compact fan with patented bionic Bionic rotor loop is from Germany. Developed with the support of the Federal Economics Ministry and the bionic Dr. Rudolf Bannasch we make with the NB-ELOOP series against the currently most advanced fan in the world. The NB-ELOOP series sets new records in almost every category and convinced by our quality product. Newly developed storage and drive as well as the tried-NB cable management and a 12-piece mounting for vibration-free mounting complement the overall unique setup.
The new design eliminates the edge of the vertebrae are formed between the suction and pressure side of the wing tips. The tip vortices are here broken down into smaller vortex edge and spread evenly. The resulting at the blade trailing edge tip vortex can be reduced by vorticity guides to a minimum. The result is a significant improvement in glide ratio which leads to a reduction of the aerodynamic flow induced noise and improves energy efficiency.
dust-resistant super-smooth surface, original material Bayer Makrolon ®.
Features
Bionic Fan Chassis
Aerodynamically optimized Abströmfeld
4 resonance / interference absorbers (Deep Sound Design)
Magnified by Einströmfeld ply construction
Super-linear performance throughout the rev range, flow-optimized
Glass fiber reinforced PBT frame Materialmassierter UL94V0 30% GF
NB-EKA 2 Drive
Auto restart function for safe start.
Built-in locking and overload protection.
NB scalable Wide Range Electronics
Low starting voltage
Speed ​​signal line
AntiDust Technology (completely dust-Protected Motor)
NB-2 magnetic levitation bearing NanoSLI
Lubrication and noise reduction of vertical and horizontal operation without increasing the volume
AntiDust Technology (completely dust-proof bearings)
Lubrication with special nanotechnology for high durability and low operating noise
NB Cable Management
Plug-sheathed cable, 1x 20cm + 1 x 50cm
Vibration-free mounting
The included 12-piece mounting kit allows for vibration-free assembly, which reduces the operating noise when installed.
Warranty
Six years, according to NB warranty terms