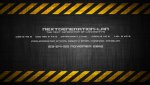 Het is eindelijk zover de datum en locatie voor The Generation Part 2 zijn bekend.
Check
NextGeneration-LAN
voor meer informatie
Dit betreft 23-24-25 november 2012 voor max 120 personen, in het plaatsje Hasselt (Belgie)
We moesten omdat we in Nederland geen geschikte locatie konden vinden helaas uitwijken naar onze buren, waar we een zeer geschikte locatie hebben gevonden.
Straatnaam: Patsorijstraat 4
Huisnummer: 4
ZIP/Postcode: 3500
Stad: Hasselt (Belgie)
Land: BE
Entree: €25,- vooraf of €30,- aan de deur.
Wat bieden wij op TheGeneration Part 2 :
- Full Gbit netwerk
- € 950,- prijzengeld bij volledige bezetting!! (als het budget t toelaat meer)
- Leuke prijzen
- Competities
- Jonge maar gemotiveerde crew
- Slaapplaatsen voor de slapers
- Activiteiten naar keuze, die worden nog ingevuld
- Xbox Zone
- Online cateringsysteem
Competities en Prijzen
De prijzen voor de Competities zijn grotendeels bekend, bij deze alvast de eerste competities.
Wij kunnen bij een volledige bezetting €950 euro vrij maken voor de competities verdeeld over:
StarCraft II 1 vs 1:
1ste prijs: €150,- cash
Counterstrike Source 5 vs 5:
1ste prijs: €250,- cash en 5 vrijkaarten TheGeneration Part 3
Counterstrike GO 5 vs 5:
1ste prijs: €250,- cashen 5 vrijkaarten TheGeneration Part 3
League of Legends 3 vs 3:
1ste prijs €300,- cash
Call of Duty mw 1.7 5 vs 5
1ste prijs: 5x CoolerMaster Storm Quickfire Pro gaming toetsenborden
De 2de en 3de prijzen zullen bestaan uit leuke hardware en leuke goodies, deze zijn nog niet allemaal bekend maar dit hopen wij zo snel mogelijk bekend te maken.
Wij zijn nog in gesprek met sponsoren, dus er kunnen nog prijzen worden toegevoegd/vervangen.