Bitspower nieuwe blokken "Nickel Plated clear" voor de MSI X99S SLI PLUS.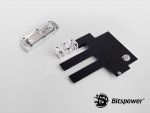 BP-WBBRAGIMIX99NPAC-CL Bitspower BRAGI MIX99 Nickel Plated (Clear)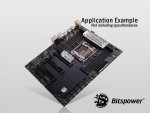 Features:
1. Design For MSI X99S SLI PLUS.
2. Included ChipSet and MOS Blocks.
3. Real Full Water-Cooled Solution.
4. Block TOP Cover Made Of Hi-Quality Acrylic.
5. Block Base Made Of Hi-Quality Copper.
6. Block Base High Durability Nickel Finished In Shining Silver.
7. Polished Stainless Panel In Matt Black.
8. RoHS Compliant.
Dimension N+S ( LxWxH ) : 152.5x143.8x26MM
Dimension MOS ( LxWxH ) : 107x37.2x26MM
Thread : G1/4" x 2
Included :
1. Backup O-Ring x 1Set.
2. Thermal PAD Included.
3. Mounting Screws/Accessories.
Compatibility :
1. MSI X99S SLI PLUS